If you like a full-flavored and aromatic cup of coffee then pour-over coffee is for you. Especially with this method, you'll get one of the most tasteful and clean brews. As baristas and home-brewers alike know, the choice of coffee for your pour-over can make our break the end result. We've ground a lot of beans and brewed quite a few cups and landed on 5 favorites. These are the best beans for pour-over coffee in 2021.
Top 5 best beans for pour over coffee
So what beans are best to create that delicious pour-over? In many cases, that's totally subjective and truthfully, there is no one selection that is the absolute best.

What we've done here is that we have selected our top brands based on a couple of criteria such as roast type, origin, and certifications (if any) such as organic, fair trade, etc…

We have personally tried and tested all of the below and many more in order to bring you our top 5 best beans for pour over.
Best coffee beans for pour-over; our selection
Image

Product
Highlights

Lifeboost Coffee
Medium/Dark Roast
High Altitude
Organic Coffee
Fair Trade
Light Roast
Kosher

Check Price

Real Good Coffee
Breakfast Blend
Light Roast
Arabica Bean
Central/South America
Sustainable business model

Check Price

Bulletproof Coffee
Medium-Dark Roasted
Premium quality Arabica bean
Central/South America
Organic variant available
Sustainable business model

Check Price

Volcanica
Medium Roast
Arabica Bean
Ethiopia Yirgacheffe region
From wild coffee trees
Organic

Check Price

Gold Rum Co.- Kona Coffee
Medium-Dark Roast
World famous Kona Coffee
100% authentic
Single origin
Hand-picked

Check Price
Lifeboost Coffee
Lifeboost Coffee is our favorite pick in this bunch. If you're looking for a high-quality, single-origin, Arabic bean, you should give Lifeboost a try.

The careful growth and harvesting process of this high-altitude coffee results in a clean, smooth taste. It has a rich and full body without a bitter aftertaste. Lifeboost beans are grown in the Guatemalan Highlands and are loaded with antioxidants.

There are several variants, but we recommend trying the medium roast or dark roasted beans for pour-over coffee. If you prefer ready ground beans, you can try their medium roast or decaf grounds.

For those who prefer a responsible coffee, Lifeboost is one of the top brands in this department. The coffee is 100% USDA certified organic, fair trade, and non-GMO. Also, for every bag of Lifeboost coffee sold, the company will supply a child at risk of malnutrition with vitamins for 1 year through their partnership with non-profit Vitamin Angels.

If you ask us, there is no reason not to try this cup of wonderful and healthy coffee.
Healty Choice; Organic, Non-GMO

Sustainable business model

Relatively expensive in comparison

Drinkers who fancy a strong aroma might find it too bland
Real Good Coffee
Sometimes a name can say a lot, as in this case. Real Good Coffee delivers what it says; good coffee. Nothing more, nothing less.

The Real Good Coffee company from Seattle believes is simple, honest coffee. The small team wants to impress with coffee, rather than fancy naming, words, and gimmicks and they have been doing so for the past 30 years.

For our pour over, we selected their medium roast variant called "Donut Shop". It has a delicious, smooth flavor with brown sugar and hazelnut aromas. The donut shop beans have low acidity and lack any bitterness. Instead, you will appreciate the added sweetness from a subtle hint of plum notes.

Real Good Coffee is made with premium quality Arabica coffee beans from Central and South America. They are grown, sourced, and packaged responsibly, after being roasted fresh in Seattle, USA

Feel free to experiment and try their light and French roasts variants as well. The latest addition to their repertoire is the organic dark roast from Sumatra beans.

Looking for an amazing coffee at a reasonable price? Take our word for it and try them out.
Premium Quality Arabica Beans

Central/South American Blend

Responsibly grown, sourced and packaged

Great quality for a reasonable price

Roasted and packaged in the USA

Organic variant available

No official fair trade certification
Bulletproof coffee
If you like your pour over a bit more on the darker side, The Mentalist from Bulletproof Coffee may be an excellent choice for you.

This Medium-Dark roasted, high-altitude bean brings the full body from Guatemalan and Colombian beans right to your cup. This South American blend offers a nice balance between a fruity sweet cherry and notes of caramel as well as almond.

The organically grown and handpicked beans are high quality and tested for micro toxins to keep your coffee pure, clean, and free from molds, as well as to keep you free from jitter. Bulletproof coffee is Rainforest Alliance Certified and is sustainably produced with great regard for nature and people.

Bulletproof coffee is a true 'powerhouse' coffee, ideal for intermittent fasting, ketogenic diets, or just weight control. Starting your day with a cup of Bulletproof helps you feel alert and focused throughout the day. Start your day healthy with a Bulletproof boost.
Premium Quality Arabica Beans

Central/South American Blend

Responsibly grown, sourced and packaged

Great quality for a reasonable price

Roasted and packaged in the USA

Organic variant available

No official fair trade certification
Volcanica
The first African bean on our list of 'best coffee for pour over' is Volcanica. The Volcanica brand was founded in 2004 and currently offers 130 different coffees from many origins. For our list, we went with the Ethiopian Coffee from the Yirgacheffe region.

This arabica bean carries the fruity and floral notes that Ethiopian coffees are so well known for. However, what makes the Yirgacheffe coffee special is that most of the crop is gathered from wild coffee trees. It is to this that it owes its remarkable, exotic flavor and pleasant acidity. Volcanica's Yirgacheffe is a medium roasted bean and is definitely one of our favorites to brew and exotic pour over.

As a well-established and environmentally friendly brand, Volcanica coffee is Organically Grown, Rainforest Alliance Certified, and Fair-Trade Certified.
Gathered from wild coffee trees

Roasted and packaged in the USA

Priced on the higer end of the spectrum
Hawaiian Kona Coffee
Last but certainly not least on our list is Kona Coffee. Every coffee aficionado has heard about the exceptional Hawaiian Kona Coffee.

Although there are many brands that claim to be the real deal, often only a small portion of their blend are actual Kona beans. Kona beans are quite expensive and therefore brands often blend them with cheaper beans.
These beans from Kona Gold Rum Co. however are the real deal and 100%, authentic, single origin Kona beans.

This bean will brew the strongest pour over on our list. With the Medium-Dark roast you can expect crisp, fruity notes with creamy tones of molasses and brown sugar. If you're looking for something high-quality and unique, try out Kona beans for a simply remarkable cup of coffee.

This brand of Kona beans has won several awards in the past years, one of which was the 2018 AVPA Paris Silver Award.
| | |
| --- | --- |
| | |
| Hand-picked, sun-dried and air-roasted | Priced on the higer end of the spectrum |
Buying Guide – Select your ideal coffee bean
There are a couple of things you should know when buying coffee beans. If you don't have a lot of experience with buying beans, it might seem overwhelming. Staring at a wall of choices, not knowing where to start or what to choose can be daunting.

To make it simple, all of those things are on the label, and it'll be easier to make a choice when you have some basic knowledge and know what to look for. Let's go over it together.

Here are the most important things to look out for when choosing the best coffee beans for pour-over coffee. However, if you'd like to know more, have a look at this in-depth guide to coffee bean selection.
Freshness of whole coffee beans
As soon as you grind your beans, they start to get stale. Even airtight packaging cannot fully avoid quality loss. Clearly, when you grind your own coffee, you get the freshest brew each time.

With any coffee brewing method, but especially with pour-over, we want to extract maximum flavor and aroma with our brew. Although the pour-over brewing technique perfectly allows for pre-ground coffee to be used, you shouldn't.

Invest in a good grinder and start grinding your own coffee on demand. You'll thank yourself that you did.
Control & Influence
Another big advantage of coffee beans over ground coffee is the level of control and influence you have over the result. When buying beans, you know exactly what goes into your brew.

With beans, you are free to determine how you want to grind your coffee during the brewing process since you'll be your own coffee grinder. The coarseness of your grind has quite an impact on the end result.

That being said, if you can't get coffee beans or you have no way to grind them, feel free to use a good ground coffee. However, know that any coffee connoisseur will always prefer to grind their own for an optimal result.

In the rest of this article, we will focus on the best beans for pour-over.

What are the different types of coffee beans?
Coffee beans are for coffee what grapes are for wine. There are many types, and each has its own properties. However, there are two main types of beans you should know about; Most bean types fall into either of these two categories, and they are: Arabica and Robusta.
Arabica beans
Arabica beans can be found in about 75% of the world's coffees. It's a delicate bean in terms of flavor but also with regards to their growing conditions. Arabica beans need more care and TLC when growing up. They also grow in higher altitudes, which complicates growth and harvesting.
Robusta beans
Robusta beans, on the other hand, are a stronger and harder bean. It's more resistant to pests and disease and grows in lower altitudes. This makes the Robusta bean much easier to cultivate.

Apart from its more robust nature, the taste is also stronger, more acidic, and with a bigger body. Robusta beans also contain more caffeine but lack the delicate, complex, and refined taste of Arabica beans.

Origins of coffee beans
Coffee grows worldwide at locations within the so-called 'green belt' or 'coffee belt.' This is the area roughly between 25 degrees North and 30 degrees South.


Our comparison with wine also holds water here. Just as French wine tastes completely different compared to South American, coffee from Indonesia will be very different from a brew that originated in Brasil.

The taste of coffee is, to a large degree, influenced by variables like latitude, temperature, climate, rainfall, soil, and so on. Obviously, these variables are different from country to country, but they can even differ between farms.

It's not so much that coffee beans from one location are better than from another. Although there are quality differences between locations, most of it comes down to personal preference. As with many things regarding coffee, experiment, try, and taste to find your favorite(s).

So, then what should you look for?

Accepting the risk that this is probably generalizing way too much, you can follow this guide as a rule of thumb.
Coffee taste and country of origin
Although the real connoisseur knows that there can be substantial differences between countries on the same continent, we have tried to group the world's coffees by origin and taste. This will help you to get a rough idea of what to expect.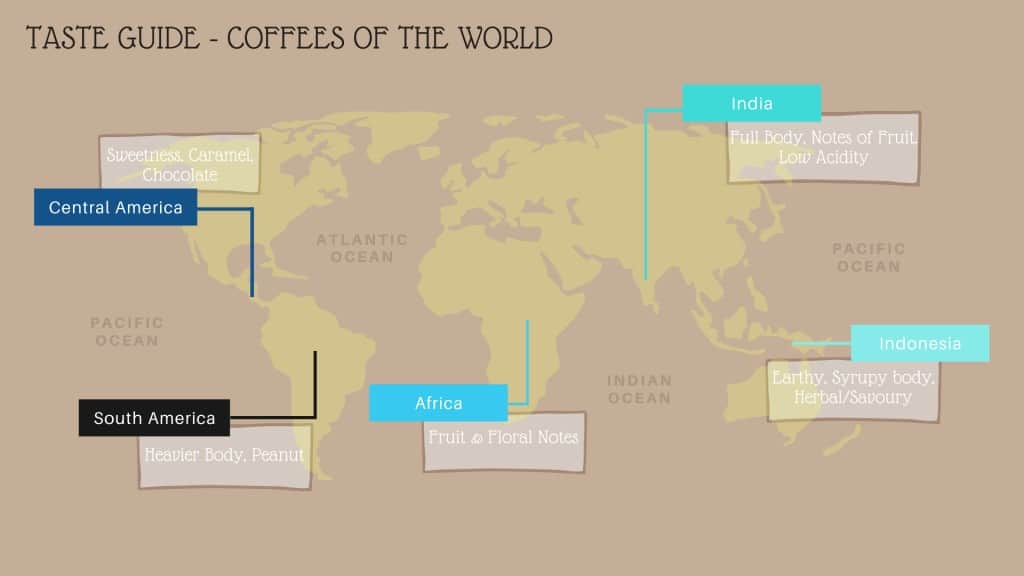 Coffee from Central and South America
Coffee from the Central and South Americas is very popular and is the default for many people and coffee shops around the world. American beans generally have a 'clean' and mellow but subtle taste that often has sweet notes like caramel or chocolate.
When moving to the South, the body becomes a bit fuller, heavier, and you might find a hint of peanut.
Coffees from Africa
Africa's coffees are well known for their delicate and fruity, berry flavors, often with Floral notes. Especially Ethiopian or Kenyan coffees are mouthwateringly good. Africa is the go-to continent for many coffee drinkers and in a great choice as well.
Indonesian and South-East Asian Coffee
South-East Asian coffees from Indonesia or Vietnam often have more 'earthy,' savory flavors with a hint of sweetness and syrup or herbal notes. Generally, Asian coffees have a full-body, and if that's your thing, you should definitely give them a try.
Indian Coffees
With coffees from India, many drinkers have a love-or-hate-relationship. We've heard people compared it to drinking water from The River Ganges to anything resembling Holy Water. If you like coffee with fruity notes and a low acidity while still having a full-body, give it a try.
Single origin coffee or blended coffee?
Single-origin coffee originates from a specific location and is not mixed with beans from other coffee farms. A blend contains beans from multiple origins.

Although this is often the subject of discussion, there's not really an answer to which is better. It depends on how you want to drink your coffee and what you expect.

Single-origin coffee can be seen as 'pure' but often lacks deepness or complexity. The roaster often selects beans that complement each other and offer a good and full sensory experience with blended coffees.

Coffee aficionados and purists often enjoy the pure experience that a single-origin coffee offers and love tasting the subtle nuances between those coffees.

Folks who prefer blends enjoy the balanced flavors and a well-chosen mix between 'mouth feel,' smoothness, aroma, acidity, after taste, and crema, often without the bitterness of a single-origin coffee.
What roast profile is the best for Pour-Over?
The roast of your coffee beans is arguably one of the most important factors influencing the taste of your pour-over coffee.

While it is, to a large degree, a matter of preference, we see most brewers (and drinkers) prefer a light to a medium roast for a pour-over.

I'll highlight those roasting profiles briefly below but for a deep-dive into coffee roasting profiles, have a look at our Complete Guide to Coffee Roasts.

Roast Type
Common Roast Names
Taste & Aroma
Caffeine Content
Light Roast

Cinnamon Roast
Light City
Half City
New England Roast

Grainy
mellow
High acidity

Medium Roast

Regular Roast
American Roast
City Roast
Breakfast Roast

Less grainy
more body
balanced taste
Stronger aroma
Relative high acidity

Medium-Dark Roast

Full City Roast
After Dinner Roast
Vienna Roast
French Roast

Heavier, stronger
More body
Spicy Aromas

Dark Roast

Italian Roast
Continental Roast
Spanish Roast
New Orleans Roast

Taste more bitter
Hint of caramel
Smoky/Burnt
Conclusion
We've tested and tasted many beans, and the 5 brands mentioned above are our favorites. By all means, give them a try and let us know what you think.

On the other hand, don't just take our word for it and always discover your own favorites. As we always say, there are a few universal truths and certain standard characteristics that make a quality coffee or a great coffee bean, but our taste is our own. The personal journey of finding your own "best coffee" is what makes coffee so interesting and a never-ending quest for the ideal aroma.

Agree with our 5 choices, or would you have made a different selection? We're always eager to hear from our readers. Let us know your thoughts below.
Our Reviews
Caffeinetalk is not associated with, endorsed by, or in any way connected to the brands and companies mentioned in this review. Neither were we (financially) compensated to write our review. Our opinions are our own, and our reviews are based on personal experience and/or based on input from our readers or online research.
As an Amazon Associate, we earn from qualifying purchases. We are a participant in the Amazon Services LLC Associates Program, an affiliate advertising program designed to provide a means for us to earn fees by linking to Amazon.com and affiliated sites.